aviaRepository
The aviaRepository is a centralized data store generically designed for aviation companies. It provides the "single version of the truth" in respect to all data available in the variety of operational systems, spreadsheets and formerly unrelated data sources utilized throughout the operation of an airline. The information and knowledge retrieved from the consolidated and normalized data in the aviaRepository improves the quality of advanced downstream data processing, dashboards, and scorecards, as well as decision support and workflow management.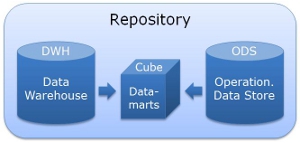 While the data warehouse (DWH) holds historical records for long-term analysis and is usually updated 1-4 times a day, the operational data store (ODS) provides near real-time information for business-critical applications and real time reporting.
Business rules, predefined aggregations and performance indicators (PI/KPI) are stored in an optional multidimensional data store to allow for time intelligence, ad-hoc access to billions of datapoints and advanced visualization.